This past fall semester the Industrial Design program partnered with WestRock® to create innovative new packaging concepts. WestRock® is an innovation leader in the paper and packaging industry, with nearly 40,000 employees globally, including several plants and offices here in North Carolina. Appalachian State's Industrial Design program joined forces with their beverage packaging design team which is based in Richmond, VA on an Industrial Design Studio Class, an intensive, hands-on, project-based course during which students develop new design concepts and build their portfolios. The studio was led by Michael Rall, Assistant Professor of Industrial Design, and Andrew Peeler, Senior Designer Global Design for WestRock®. The overall goal of the partnership was for the students to gain exposure to real-world design challenges – considering how to connect, form and function to brand objectives and to position a brand for success with consumers.
For the project, students were paired up and given an emerging segment of the beverage industry to focus on: craft soda, craft coffee, protein drinks, and high-end health drinks. Throughout the project, from research and branding, to concept development and finalization, the students drew on WestRock's® industry and design expertise to develop high impact solution that would meet brand-owners' needs while exceeding consumers' expectations. Each team developed a new beverage brand, including identifying the target consumer and the appropriate positioning and brand language, developing stand-out graphics, and creating a new secondary package that would resonate with the target market. The teams completed field research of the current market as well as user surveys to set a baseline and identify unmet needs to inform their design process.
After defining their problem and determining their user, each group began to develop initial concepts through sketching and paper models. Berkley Wilcox, one of the student designers described the process of working with his teammate, "No idea for the project was our own, as soon as my partner Liz or I had a notion the other person would take it and run with it." At this point, the students presented their process to three WestRock® team members: Andrew Peeler, Linh Kooc, Designer II, and Sara Falcon, Design Strategist. Each group received valuable feedback about their directions to incorporate into refining their concepts through paperboard models. The use of paperboard helped to produce more realistic prototypes that could be tested for comfort and durability, important attributes of beverage packaging.
The students were in contact with the designers from WestRock® as they continued developing solutions. The constant contact helped when the students had specific questions about the material, function or feasibility of a particular feature.
When the project ended, WestRock® team members, including head of Global Design Brad Walling, joined the group for the final critique. On December 2nd the students presented their final solutions to the panel. Each group created a final deliverable that included multiple prototypes of their branded packaging solution. The guest critics selected the unique four-pack basket for Kopana Craft Soda, developed by Liz Waters and Berkley Wilcox, as the top design, based on the technical performance of their solution, the innovative design, and the applicability and relevance to the market space. In describing the project Liz said, "The feasibility of our design was the most time-consuming part of the project and led to countless prototypes. While the process was long, it was well worth it since Berkley and I are both proud of our final concept." The WestRock® panel was excited about the potential in all the concepts though. "These student designers brought such a fresh perspective to innovating for these exciting and growing segments," said Mr. Peeler, "we are eager to further develop these concepts into scalable solutions, and hope the students will see packages on the store shelf one day soon that were inspired by their creativity."
About WestRock
WestRock (NYSE:WRK) partners with our customers to provide differentiated paper and packaging solutions that help them win in the marketplace. WestRock's 39,000 team members support customers around the world from more than 250 operating and business locations spanning North America, South America, Europe and Asia. Learn more at www.westrock.com.
About Industrial Design
The industrial design program at Appalachian State University is housed in the Department of Applied Design and includes concentrations in furniture and product design.
Concentrations focus on design inquiry, creative problem solving, user research, social and environmental concerns and manufacturing requirements. Through industry collaborations and studio projects, students are challenged to develop a comprehensive knowledge base allowing them to compete as professionals.
The Department of Applied Design also includes the Apparel Design and Merchandising program and the Interior Design program, and is one of seven departments housed in Appalachian's College of Fine and Applied Arts.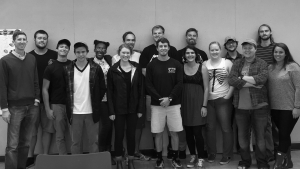 Tags: