Appalachian State University industrial design students Hannah Eckersley and Michael Nelson were recently crowned the 2018 winners of Doug Mockett and Company's 33rd annual design competition.
The students created their winning entries as part of assistant professor Michael Rall's design studio. This is the third year in a row that students taking his course have won the award.
Eckersley, a senior from Rolesville, created an "art deco inspired coat hook that takes an ordinary stamped triangle plate and layers it by bending out addition interior triangles that serve as multi-level hooks."
Nelson designed a floor wire manager that "conceals wires safely and doubles as a foot rest."
"Throughout my design process for this competition, my goal was to stay true to Mockett's brand identity and really understand the aesthetics and design language that they use in their products," Eckersley said about her winning design.
Doug Mockett & Company is a high-end online retailer of hardware for homes based out of California. Their annual design competition attracts entries nationwide and winners receive $1000 cash prize and royalties from the design they create.
"Appalachian is the only school that has students enter the Mockett competition, so besides competing against our classmates, we were competing against professionals from all around the country," Eckersley explained. "This makes winning the competition that much sweeter knowing that Mockett picked my design over designs by professionals."
By Caroline Lubinsky
About the Department of Applied Design
One of seven departments housed in the College of Fine and Applied Arts, the Department Applied Design at Appalachian State University fosters excellence in design education, design research and professional placement. The department balances theoretical and pragmatic approaches while exploring an awareness of impact through design decisions on the global community. Faculty focus on a holistic approach to creative problem-solving by integrating sustainability and ethical responsibility in teaching and practice. The department offers bachelor's degrees in apparel design and merchandising, industrial design and interior design.
About Appalachian State University
Appalachian State University, in North Carolina's Blue Ridge Mountains, prepares students to lead purposeful lives as global citizens who understand and engage their responsibilities in creating a sustainable future for all. The transformational Appalachian experience promotes a spirit of inclusion that brings people together in inspiring ways to acquire and create knowledge, to grow holistically, to act with passion and determination, and embrace diversity and difference. As one of 17 campuses in the University of North Carolina system, Appalachian enrolls about 19,000 students, has a low student-to-faculty ratio and offers more than 150 undergraduate and graduate majors.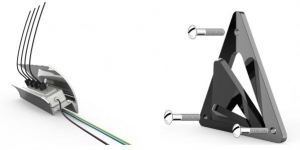 Tags: