Caroline DiBerto and Cassie Hutchens, both seniors enrolled in Appalachian's Department of Applied Design interior design program, have received an honorable mention in the Planning and Visual Education (PAVE) 2018 student design competition. The students were recognized at the annual PAVE gala on December 5 in New York City in front of an audience of more than 450 designers, retailers and suppliers.
This year's competition sponsor, The Home Depot, asked students to "rethink and reinvent how its stores can give customers the know-how they need to tackle all their home improvement projects with confidence."
Using this prompt, DiBerto and Hutchens created the "Make it Your Own" concept. They introduced a garden creation space to promote healthy living through cooking demonstrations and gardening workshops; "behind the wall" education offering more intensive home improvement trainings; and a "bringing décor to life" space providing a design style quiz and augmented reality experience.
According the DiBerto, of Apex, the concept came from the do-it-yourself movement and was designed to create opportunities for individuals to learn more skills on their own.
"We wanted to organize our designs and ideas in a way that personally connects to the viewers and shows them that with the help of The Home Depot, they are capable of learning and doing on their own," she said.
Hutchens, from Winston-Salem, also stressed the relationship-building aspect of the concept, and their work to ensure it resonated with all age groups.
"We wanted to focus on interacting with your community and DIY home improvement, which The Home Depot is known for."
The community feel of Appalachian is what drew both students to the university, and as they finish their studies, both are looking for opportunities with firms specializing in retail or hospitality design.
Department Chair Brian Davies commended both students on their work, and stressed the importance of attending the PAVE gala to meet industry experts.
"I am exceptionally proud and appreciative of the efforts of Caroline, Cassie, their senior classmates and professor Alex Poorman for continuing to distinguish Appalachian's interior design program as one of the very best in the world at envisioning future retail environments," he shared. "2018 was the third consecutive year in which the program received honors in this prestigious competition. The group worked exhaustively to submit their strategic visions for blind review against more than 400 other student proposals from around the globe. We are grateful to PAVE and The Home Depot for their commitment to supporting design education, and to Kathleen Jordan, principal and retail practice area leader at design firm Gensler, for mentoring our seniors."
About the Department of Applied Design
One of seven departments housed in the College of Fine and Applied Arts, the Department Applied Design at Appalachian State University fosters excellence in design education, design research and professional placement. The department balances theoretical and pragmatic approaches while exploring an awareness of impact through design decisions on the global community. Faculty focus on a holistic approach to creative problem-solving by integrating sustainability and ethical responsibility in teaching and practice. The department offers bachelor's degrees in apparel design and merchandising, industrial design and interior design.
About Appalachian State University
Appalachian State University, in North Carolina's Blue Ridge Mountains, prepares students to lead purposeful lives as global citizens who understand and engage their responsibilities in creating a sustainable future for all. The transformational Appalachian experience promotes a spirit of inclusion that brings people together in inspiring ways to acquire and create knowledge, to grow holistically, to act with passion and determination, and embrace diversity and difference. As one of 17 campuses in the University of North Carolina system, Appalachian enrolls about 19,000 students, has a low student-to-faculty ratio and offers more than 150 undergraduate and graduate majors.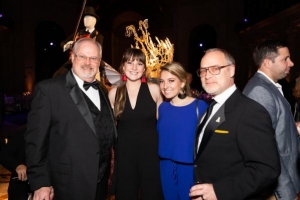 Tags: