Appalachian State University students Elizabeth Hundley, Megan Everhart and Kaitlyn Hutchens have been named SOURCE Awards winners for their conceptual lighting design projects in power management company Eaton's 39th annual lighting design competition. This marks the third year in a row that a student from the university has taken home the top honor, and the second year that all three winners have been Appalachian students.
Hundley, a junior interior design major, received a $1,500 prize for her lighting design. Everhart and Hutchens, who were both recognized for their designs at last year's competition as well, received Honorable Mention honors and a $500 award. All winners received a crystal trophy and an invitation to attend a complimentary class at the SOURCE, Eaton's state-of-the-art lighting educational center located in Peachtree City, Georgia.
The awardees were recognized during LIGHTFAIR® International, the world's largest annual architectural and commercial lighting trade show and conference held in April at the San Diego Convention Center. Projects were judged on the blending of aesthetics, creative achievement, technical performance and the degree to which the lighting met project constraints and design concept goals.
Hundley's winning project featured an authentic Persian restaurant, Salt, and drew inspiration from the Dasht-e Kavir desert in Iran. This desert is one of a few places where blue salt can be found, and the contrast between the sharp structure of the salt and patterns in the sand guided Hundley's thinking. The lighting concept is based on fractals and geometric forms, designed to accent edges.
Everhart was recognized for "Kroger Marketplace: Mosaic Creating Art Out of Food," and Hutchens for "Framework: Supporting Success, a co-working office." Both are May 2016 interior design graduates from the Department of Applied Design in the College of Fine and Applied Arts.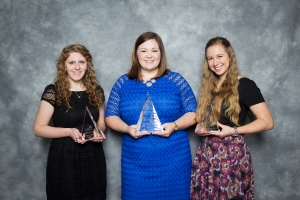 Tags: