BOONE, N.C. — Between 2021 and 2022, two students from the Appalachian State University College of Arts and Sciences and College of Fine and Applied Arts collaborated with staff at Kings Mountain National Military Park (KIMO) to develop digital media presentations and activities to enhance KIMO's digital content for both in-person and online visitors.
Originally scheduled to begin in May 2020, the start of the project was delayed until the following year due to COVID-19. In Spring 2021, Stella Harden '19 '20, an alumna of the geography undergraduate and graduate programs, and Sally Ruckterstuhl, a senior industrial design student from Charlotte, were hired as project interns. Dr. Mark Spond, instructor in the Department of Geography and Planning and App State's Blue Ridge Parkway Liaison, served as their supervisor.
Harden and Ruckterstuhl work was guided by Spond and Ranger Katherine Lynn, who directed timelines and approved deliverables. "Katherine Lynn was an amazing supervisor. She took Sally and I on golf cart rides around the park and on tours of park archives," said Harden.
Located in Blacksburg, South Carolina near the border of North and South Carolina, KIMO features an array of historical, cultural and natural resources. It is home to a variety of wildlife and plant communities, miles of trails, and one of the best-preserved battlefields of the American Revolution. The park is frequented by historians and hikers of all ages, and by thousands more online visitors looking to learn about the park or preparing for an in-person visit of their own. Harden and Ruckterstuhl's work reflects the diversity of the park's resources and visitor interests.
Harden, who earned her Geographic Information Systems (GIS) Certificate in 2019, applied her cartographic expertise to improve trail maps and thematic imagery available to KIMO staff and visitors. She also collaborated with Ruckterstuhl to create exhibits and produce online content.
Harden said the project that she is most proud of is the promotional video, which featured interviews with the regional superintendent, rangers, volunteers and interns. "The video showcased the unique natural beauty and historical importance of the area, and was incredibly fun to compile," she explained.
Harden contributed to the project until August 2021 when she moved to British Columbia, Canada to pursue a Ph.D. in Geography at Simon Fraser University. Currently wrapping up the second year of her doctorate, Harden looks back on her internship experience fondly. "I was able to experience the day-to-day of park rangers and learn from their firsthand knowledge of the park. I also gained a lot of neat connections from the experience, and enjoyed working closely with Sally. We would have lots of brainstorming sessions where she inspired me to think more creatively about different park needs," said Harden. "Overall, the freedom granted to me from the internship gave me skills to start new projects and try out new ideas in a safe and encouraging atmosphere."
Bringing product design expertise to the internship, Ruckterstuhl conducted repeat-photography comparisons within the Park, designed activity-themed logos, and created experiential content for Junior Rangers and other KIMO visitors through August 2021. The internship deadline was extended through December 2022 due to unused funding, allowing Ruckterstuhl additional time to work on the project.
---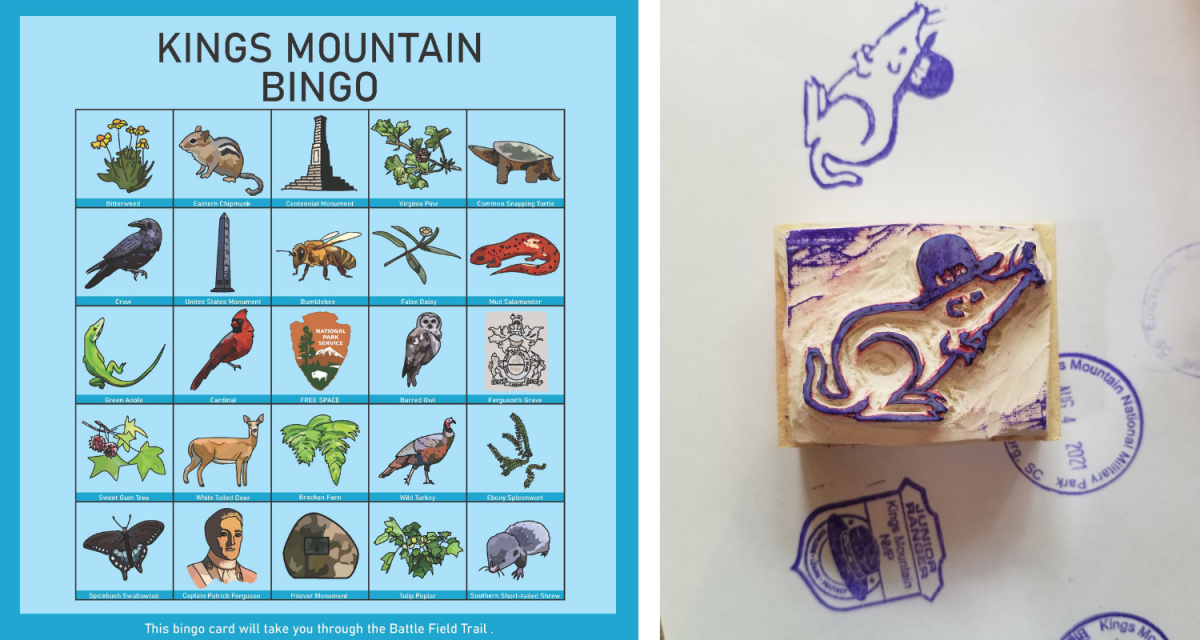 Left: Ruckterstuhl designed a series of Bingo cards as an activity for children who were too young to participate in the Junior Ranger Program. Because many of the children couldn't read yet, the cards are largely visual with hand-drawn native animals from the park to encourage curiosity and interaction with the park. Right: Students who completed the Bingo card received a Shrew stamp. The design was hand-carved by Ruckterstuhl.
---
"This internship was a fantastic opportunity to use skills I have learned as a product design major in a space where it can do some good," said Ruckterstuhl. "I got to practice with Adobe Creative Cloud, find problems that I was capable of solving, and present design concepts to rangers that were unfamiliar with the design process, which was a great learning experience! Taking these skills out of a school environment and into the professional world was super beneficial."
To learn more about KIMO and view more of Harden and Ruckterstuhl's project deliverables, visit nps.gov/kimo/index.htm.
###
About the Department of Applied Design
One of seven departments housed in the College of Fine and Applied Arts, the Department Applied Design at Appalachian State University fosters excellence in design education, design research and professional placement. The department balances theoretical and pragmatic approaches while exploring an awareness of impact through design decisions on the global community. Faculty focus on a holistic approach to creative problem-solving by integrating sustainability and ethical responsibility in teaching and practice. The department offers bachelor's degrees in apparel design and merchandising, industrial design and interior design. Learn more at https://design.appstate.edu.
About the Department of Geography and Planning
The Department of Geography and Planning promotes the understanding of the spatial dimensions of human behavior within the physical and cultural systems of the earth, and the role of planning in achieving improvement in those systems. The department offers degrees in geography and in community and regional planning. Learn more at https://geo.appstate.edu.
By Dr. Mark Spond, Beca DeVore and Lauren Andersen
March 30, 2023
BOONE, N.C.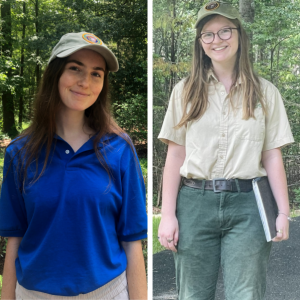 Tags: