Four seniors enrolled in the Department of Applied Design's Interior Design Program have received top honors in the Planning and Visual Education 2016 Student Design Competition. Appalachian students swept the Visual Merchandising category, with Emma White of Elkin placing first, Katie Taylor of Charlotte placing second and Rebecca Ballard of Mooresville placing third. Elizabeth Hundley of Hickory received the top honor in the Store Design category as well. The students, who faced a competitive field of more than 400 entries, were awarded various levels of scholarship funding as competition winners and were recognized at the annual PAVE gala on December 7 in New York City in front of an audience of more than 700 designers, retailers and suppliers.
The students prepared designs for the competition as part of Assistant Professor Dr. Hessam Ghamari's senior studio. Ghamari planned ahead and asked his students to brainstorm ideas over the summer.
"This year's PAVE competition sponsor, Kroger, invited students around the world to explore new health and wellness concepts for future Kroger Marketplace stores," he said. "I realized that winning would require comprehensive research across a range of aspects in retail design, and I valued the competition's demanding brief and timeline as a constructive, creative challenge for our seniors."
Once the semester started, the students had 11 weeks to develop, refine and submit their work. Applied Design Department Chair Brian Davies and Ghamari conducted regular desk critiques, along with industry expert Sharon Lessard of Gensler in Atlanta, who participated via web chat. Ghamari also enlisted Assistant Professor of Art Tricia Treacy to provide expertise and guidance to students.
The competition pushed students to think differently while drawing inspiration from a variety of sources.
Hundley's concept, "Elevate Your Total Health", was inspired by mountaintop views, expansive sight lines and crisp air. "My main goal was to be as original and out-of-the-box as possible. Considering Kroger is traditionally a large format store, I wanted to challenge those norms and stereotypes," she said. "Shoppers not only have an elevated shopping experience, but are also presented with products and expertise to elevate their mental and physical health."
White's design, "Unify Total Health," focused on recent trends of holistic wellness. "Unify creates an engaging and inspiring shopping destination that unifies the community through total health as a lifestyle," she remarked. "Shoppers of the 21st century demand an engaging retail experience that allows them to be immersed in products while also making the most of their valued time."
Taylor's goal was to treat customers. Her project, "Invigorate," was "designed to enhance or give a new energy to the shopping experience and to strengthen the concept of total health," she said. "I was able to think about design in a different way and really try to understand the thought process of consumers and how to display products in a new and exciting way."
Ballard found inspiration for her concept, "The Elements," on a visit to Hudson Eats in Brookfield Place on a trip to New York City this fall. "I wanted that same sense of community and intrigue in my design," she said. The elements used in her design refer to water, earth, fire, wood and metal and are drawn from the Chinese Wu Xing philosophy.
Both Ghamari and Davies are thrilled with the outcome and opportunities provided by the competition.
"I value the PAVE competition as a great opportunity to enable our young interior design talent to connect to the industry and network for their upcoming careers," said Ghamari.
Davies agreed. "This is Appalachian's first showing, and an impressive one," he said. "International-caliber work by Dr. Ghamari and our student winners."
All four students have ambitious career plans. Hundley plans to pursue work at an architecture and design firm in a large city and White is looking forward to a career in large-scale commercial design. Ballard is considering television and film set design while Taylor's ultimate goal is to work internationally in the hospitality industry.
The students have also been funded by PAVE to attend the National Retail Foundation's 2017 Student Program in New York City January 13-15. They will participate in a full-day conference on professional development and industry trends with expert speakers followed by two days of industry trade show and networking paired guided by assigned, professional mentors.
About the Department of Applied Design
One of seven departments housed in the College of Fine and Applied Arts, the Department Applied Design at Appalachian State University fosters excellence in design education, design research and professional placement. The department balances theoretical and pragmatic approaches while exploring an awareness of impact through design decisions on the global community. Faculty focus on a holistic approach to creative problem-solving by integrating sustainability and ethical responsibility in teaching and practice. The department offers bachelor's degrees in apparel design and merchandising, industrial design and interior design
About Appalachian State University
Appalachian State University, in North Carolina's Blue Ridge Mountains, prepares students to lead purposeful lives as global citizens who understand and engage their responsibilities in creating a sustainable future for all. The transformational Appalachian experience promotes a spirit of inclusion that brings people together in inspiring ways to acquire and create knowledge, to grow holistically, to act with passion and determination, and embrace diversity and difference. As one of 17 campuses in the University of North Carolina system, Appalachian enrolls about 18,000 students, has a low student-to-faculty ratio and offers more than 150 undergraduate and graduate majors.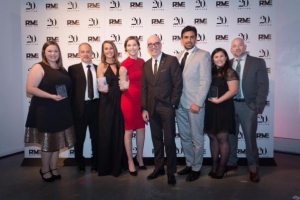 Tags: