On October 29th Appalachian State University's Industrial Design program and IDSA student club hosted an annual regional portfolio review in the Plemmons Student Union. The event was sponsored by the national chapter of IDSA, Magic Cycles, TOMY® Toys and Hatchet Coffee. Over 115 students from Appalachian State, North Carolina State, Virginia Tech, SCAD, and James Madison attended the portfolio review, which rotates between the North Carolina and Virginia schools. Additionally, thirty professionals from North Carolina, South Carolina, Tennessee, Virginia and Georgia donated their time to help the next group of young designers. Among the professionals were designers from GoPro®, WestRock®, Lowe's®, TTi®, LIAT®, Berhardt Design®, Laut Design, Touchstone 3D®, ENO® and Lenovo® just to name a few.
For Industrial Design students, the portfolio review is an opportunity to display their skills to potential employers in a one-on-one setting. It was set up to give students multiple fifteen minute segments to talk with various professional designers about their work. The limited timing required the students to carefully choose their projects and practice their presentation to receive the most beneficial feedback. In addition, this one-on-one time is a great way to make meaningful connections and build a professional network of their own.
Along with the portfolio reviews, there was also a sketching demo and character design competition. The demo and competition were led by alum Johnny Nguyen who currently works at TOMY® Toys in Chicago, IL. Johnny discussed some basics of character design, how he landed with TOMY® and even created a new character during the demo based on the group's suggested attributes.
Finally the event ended with a panel discussion, moderated by Assistant Professor Michael Rall, that covered portfolios, job hunting, and interviews for designers. The panel consisted of a range of designers from a small consultancy to fortune 500 corporation, from furniture to packaging and electronics, to show the similarities and differences between companies and their expectations for entry level designers.
For additional images please visit the Industrial Design Photo Gallary.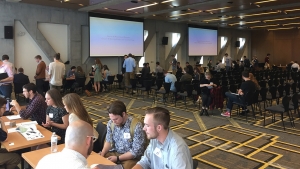 Tags: