By Amanda Brasier
A global pandemic changes everything. For students in Appalachian State University's IDEXlab this semester, it changed the entire course curriculum to support design opportunities due to COVID-19.
Appalachian's Integrative Design Experience Laboratory (IDEXlab) is a multi-disciplinary program where building science and interior design program majors are able to earn course credit while working on projects for actual clients. While the pandemic required the postponement of intended collaboration with community partners, it also provided an unexpected opportunity to explore current and emerging design opportunities.
"We asked our students to pivot as we transitioned to online learning and to reconsider our responsibilities as designers and builders to identify critical problems and opportunities related to COVID-19 in real-time," said Chelsea Helms, assistant professor of Interior Design in the Department of Applied Design, who is teaching the IDEXlab with instructor Foster Ramsey and Practitioner-in-residence Chris Schoonover from the Department of Sustainable Technology and the Built Environment.
In addition to a shift in the projects the students were planning, the design teams also went to an online collaborative format.
"In the design field, going online without the ability to be physically next to each other is a different type of collaborative setting," Ramsey said. "The real story of what they accomplished isn't in the outcome of their products, but in the students' process and how their process had to evolve. It's really a story of resiliency."
Student teams identified nine projects:
Reimagining the grocery store shopping experience

Provide empathy/interaction/hope/dignity to critical care patients in a hospital

Offer engaging, hands-on learning experiences for elementary-age students learning at home

Meet basic needs for homeless population during a virus spread

Offer support for the emotional needs of first responders

Create productive, ergonomic work-at-home space options

Plans for local restaurants to offer safe, socially distant dining

Offer solutions to grow food at home, even for individuals with limited space or without outdoor growing space
For Jacob Wibbens, '20 Building Science program graduate, the unexpected changes to his team's eventual project—reimagining the grocery store experience—has proven invaluable now that he has begun working as a project engineer in Charlotte, North Carolina. "Our group had to be super adaptive to changing projects due to the pandemic," Wibbens said. "When we finally settled on a project, I learned that the ideas I had were sometimes worlds away from the others in my group. However through productive communication we were able to meet in the middle and use the best that everyone came up with."
Wibbens' group reimagined grocery shopping to be more socially distant and safe during the COVID-19 pandemic as well as modeled its store after farmers markets. "We wanted to make everything better—in addition to offering local, healthier options from local farmers, we also wanted to address food insecurity and food sovereignty."
Addressing the evolution of home becoming a work space, senior Interior Design student Lauren Halford from Morganton, North Carolina, said her group was able to immediately benefit from their research. "Over the summer I had an internship with an interior design firm in Charlotte where we worked from my boss's home on a daily basis," she said. "You begin to look at your home differently based on your needs to be able to work successfully, and what becomes a work space looks differently for everyone."
In their recommendations, Halford's group leaves no space unturned—not even the bathroom, where they turned the bathtub into a DIY office which they affectionately called the "John Boy!"
"I found that it's important not to get too settled into just one idea with any project," she said. "What the client needs may change based on what point they are in life and how they intend to use the space." Other creative design spaces in the group's proposal included a mobile workstation in a van, a garage work station and even a retrofitted closet.
To create the presentations, the students and faculty held a four-hour zoom call each week to share updates for the group projects and get feedback from the broader IDEXlab cohort. Final presentations brought in over 15 industry experts as reviewers with various specialties related to the ranging topics and niche project focuses. The final project outcomes fostered further conversation and discussion for the ongoing problem-solving opportunities in response to the pandemic.
"Comfort leads to complacency, and struggle leads to development," said Ramsey. "Through working in the wine business for 10 years, I learned that the grapevines that are the most productive are the ones that overcame the most struggle. Character is often derived through struggle, and our students will be better for this experience. Despite all they've undergone, it's been a rewarding semester. They've had to think about human activity, which is really the basis of all design."
About The Department of Sustainable Technology and the Built Environment
One of seven departments housed in the College of Fine and Applied Arts, the Department of Sustainable Technology and the Built Environment at Appalachian State University features an integrated array of programs spanning the fields of sustainable design and technology. Its mission is to foster a strong and vibrant culture of inquiry, discovery and innovation that integrates theory with application, problem seeking with problem-solving, local issues with global perspectives and technological progress with environmental stewardship. It offers bachelor's degrees in sustainable technology and building science, and a master's degree in technology. Learn more at https://stbe.appstate.edu.
About The Department of Applied Design
One of seven departments housed in the College of Fine and Applied Arts, the Department Applied Design at Appalachian State University fosters excellence in design education, design research and professional placement. The department balances theoretical and pragmatic approaches while exploring an awareness of impact through design decisions on the global community. Faculty focus on a holistic approach to creative problem-solving by integrating sustainability and ethical responsibility in teaching and practice. The department offers bachelor's degrees in apparel design and merchandising, industrial design and interior design. Learn more at https://design.appstate.edu.
About the College of Fine and Applied Arts
Appalachian State University's College of Fine and Applied Arts is a dynamic and innovative group of seven academic departments, bringing together a variety of perspectives, experiences and real-world education to provide unique opportunities for student success. The college has more than 3,000 undergraduate and graduate majors. Its departments are Applied Design, Art, Communication, Military Science and Leadership, Sustainable Development, Sustainable Technology and the Built Environment, and Theatre and Dance. Learn more at https://faa.appstate.edu.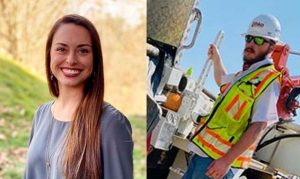 Tags: