Two students in Appalachian State University's Department of Applied Design have been recognized as "Rising Stars" by the Carolinas Chapter of the International Furnishing and Design Association (IFDA). Noah Howells, a senior furniture design major, and Casey Anderson, a senior interior design major, were honored Nov. 7 at the annual Night of Luminaries event in High Point.
The awards are given to upper-level undergraduates from universities across the Carolinas and honor outstanding work in industrial, interior and furniture design. Fifteen students were able to display their work at the event. Howells was thrilled to be honored.
"I am so thankful for this recognition. It has inspired me to take my work to the next level and work harder than ever before. I am determined to continue to earn this honor," Howells, an Asheville native, said.
Cameron Van Dyke, assistant professor in the Department of Applied Design, is teaching Howells this semester. According to Van Dyke, Howell was selected for the Rising Star award because of his outstanding performance in class this semester.
"Noah's combination of great aesthetic sensibility, attention to detail and fine craft are strongly representative of the kind of skills we are trying to develop in our furniture students."
Anderson, from Spartanburg SC, is excited for her future in interior design.
"I want to positively impact people's lives -- whether that means helping people feel included, making a business more profitable or giving people a sense of safety and security," she said. "This honor reminds me that design is more important than it often gets credit for, and inspires me to never stop trying to be a better designer."
According to Van Dyke, the event is a great networking opportunity for seniors planning for life after college.
"The connections students gain are so valuable moving forward," he shared.
By Caroline Lubinsky
About the International Furnishings and Design Association's Carolinas Chapter
As the "voice" of the total furnishings and design industry, IFDA provides its members with the tools and resources to enhance their businesses, develop professional leadership skills and broaden their networking opportunities. The Carolinas Chapter is based in High Point, NC and is a professional association for the home furnishings, decor and design industries. The chapter provides members with multi-dimensional programming, access to resources and ready-made networks valuable to today's home furnishings professional. Membership levels include professional, associate and student.
About the Department of Applied Design
One of seven departments housed in the College of Fine and Applied Arts, the Department Applied Design at Appalachian State University fosters excellence in design education, design research and professional placement. The department balances theoretical and pragmatic approaches while exploring an awareness of impact through design decisions on the global community. Faculty focus on a holistic approach to creative problem-solving by integrating sustainability and ethical responsibility in teaching and practice. The department offers bachelor's degrees in apparel design and merchandising, industrial design and interior design.
About Appalachian State University
Appalachian State University, in North Carolina's Blue Ridge Mountains, prepares students to lead purposeful lives as global citizens who understand and engage their responsibilities in creating a sustainable future for all. The transformational Appalachian experience promotes a spirit of inclusion that brings people together in inspiring ways to acquire and create knowledge, to grow holistically, to act with passion and determination, and embrace diversity and difference. As one of 17 campuses in the University of North Carolina system, Appalachian enrolls about 19,000 students, has a low student-to-faculty ratio and offers more than 150 undergraduate and graduate majors.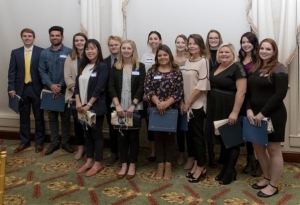 Tags: